Syrian rebels take 'almost all' of key government city in Idlib province
The city of Jisr al-Shughur was a key a strategic location for Bashar al-Assad's forces
Rebel forces in Suma'a Square in the centre of Jisr al-Shughur (Twitter/@qaassimilli)
Published date:
25 April 2015 12:08 UTC
|
Last update:
7 years 11 months
ago
A major Syrian government stronghold has fallen to rebel forces in northwestern Syria, a monitoring group said.
A coalition of rebel forces, including al-Qaeda affiliate Al-Nusra Front and the powerful Saudi-backed Jaysh al-Islam, took control of "almost all" of the city of Jisr al-Shughur on Saturday, according to the Syrian Observatory for Human Rights.
"Thousands of rebel fighters are in the city. Clashes are continuing in some neighbourhoods where soldiers are attempting to break out," said Observatory chief Rami Abdel Rahman.
The bodies of at least 60 government fighters were reportedly lying in the streets following the fighting which had been raging since Thursday, when rebel forces began their assault on the city.
"Army units are engaged in fierce clashes in the city of Jisr al-Shughur and are strengthening their defensive positions in the surrounding area," said Syrian state news agency SANA.
They report that the airforce had "bombed groups of terrorists in the Jisr al-Shughur region, and destroyed dozens of military vehicles and killed terrorists."
Jays al-Islam lauded the victory on their twitter account:
Rahman said that the fall of the city was a major blow for the Syrian government as it cuts off a key road between Latakia, a government stronghold and ancestral home of Syrian President Bashar al-Assad, and the central province of Hama.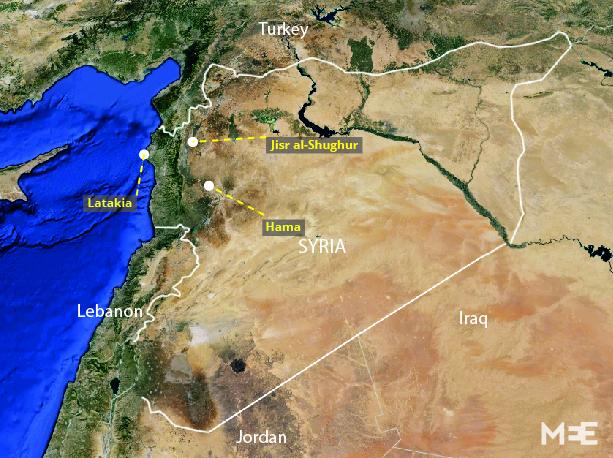 Only a few pocket of government control still exist in Idlib province, including the town of Ariha, a military base in Al-Mastumah and an air base at Abu Duhur.
The fall of Jisr al-Shughur comes in the wake of the capture of the city of Idlib last month, leading some commentators to suggest that the Syrian government could now be on the backfoot: